The rocket used for this launch was the second Falcon 9 that SpaceX ever recovered. It was the vehicle used for CRS-8, the company's eighth cargo resupply mission to the International Space Station. On April 8th, the rocket sent nearly 7,000 pounds of supplies — including an inflatable habitat module called the BEAM — to the station for NASA. After launch, the rocket then landed on SpaceX's drone ship, titled Of Course I Still Love You. SpaceX decided to launch this Falcon 9 again first, since the company wanted to save the first rocket it ever landed — a vehicle that sent 11 satellites into orbit for the company ORBCOMM in December 2015. That stage is now on display at SpaceX's headquarters in Hawthorne, California.
Though this launch was historic for the aerospace industry, it was otherwise routine for SpaceX. The Falcon 9 help to loft a communications satellite for the company SES, which is based out of Luxembourg. The satellite, called SES-10, will eventually sit in a high orbit 22,000 miles up and deliver communications services exclusively to Latin America. SpaceX confirmed that SES-10 was successfully deployed shortly after the launch.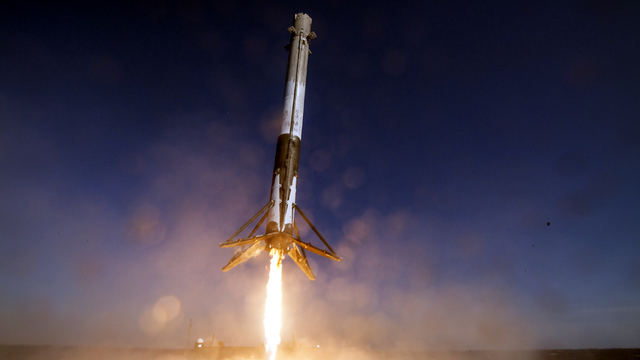 SES had been very vocal about its desire to be the first company to launch on a used rocket. And there is certainly financial incentive for customers. SpaceX president Gwynne Shotwell has said that customers that fly on a used Falcon 9 could eventually get discounts of up to 30 percent. Since the cost to launch a Falcon 9 starts at around $60 million, launching on a used rocket could start at around $40 million. For the first few relaunches, though, that the discounts will be more in the order of 10 percent. Neither SpaceX nor SES disclosed how much money was saved for this flight.
"We did receive a discount. Obviously to fly this there was some interest and there was some incentive to do so," Martin Halliwell, CTO of SES, said in a press conference prior to the launch. "But it is not just the money in this particular case. It's really, 'let's get this proof-of-concept moving.' Someone has to go first here and SES has a long history of doing this."
If SpaceX wants to maximize the economic benefits of its reusable rockets, the best method is to launch these vehicles as frequently as possible. But before a rocket can launch again, it has to be inspected, refurbished, and tested a few times to ensure that it's ready for spaceflight. It took SpaceX up to four months to get this rocket ready for flight today, according to Shotwell, but the company is working to trim down that turnaround time. SpaceX could have a lot of practice on that front soon, as it expects to launch up to six pre-flown Falcon 9s this year.